The HapNan Interactive Learning Environment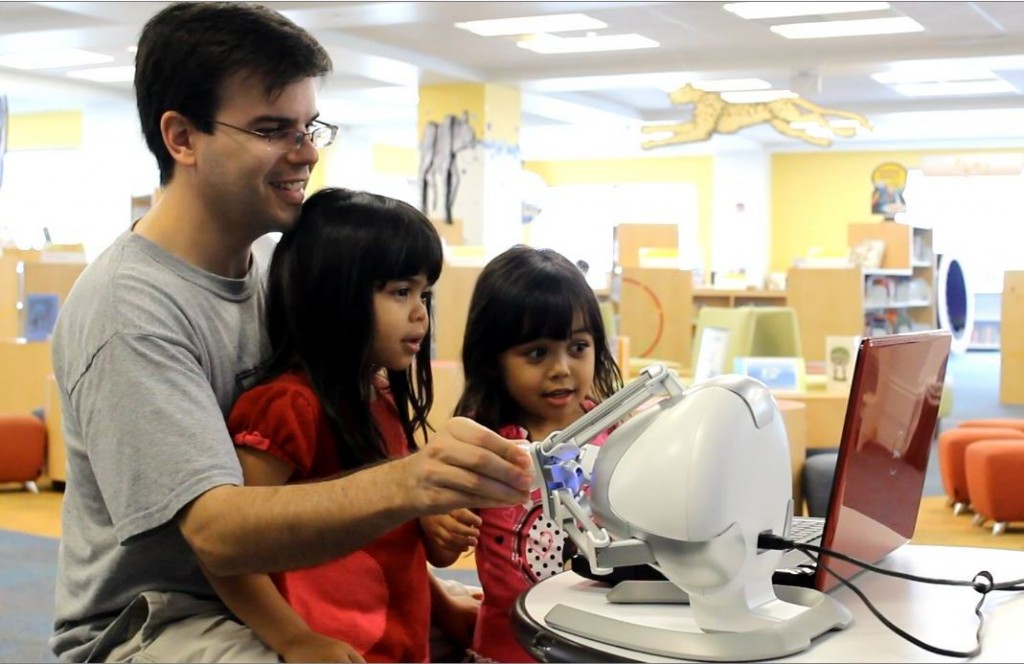 For those interested in licensing this technology please read more here.
Nanotechnology is a relatively new, exciting, and growing area of research in which governments, educators and researchers alike, are interested in attracting K-12 and undergraduate students to pursue future careers. In order for the U.S. to remain competitive in the 21st century it must attract, retain, and educate students in STEM fields–specifically in nanotechnology. However, learning how things interact and behave at the nano-scale can be difficult for students to understand and conceptualize, as objects at this scale are not directly observable or accessible in the classroom environment. Traditional methods of teaching are also potentially limited in their engagement of students, whom have a diversity of learning styles. To address these issues, Dr. Taylor partnered with UF Art and Music faculty (James Oliverio) at the Digital Worlds Institute (www.digitalworlds.ufl.edu) to develop the "HapNan (Haptics and Nanotechnology)" Interactive Learning Environment. It is a new way to teach K-12 students about science and nanotechnology through the design and development of virtual reality environments that allow for physical interaction (touch or haptics). Involvement of multiple senses in learning is thought to play a significant role in transitioning from concrete to abstract thinking and may reduce the cognitive load and thereby support greater information processing and retention*. By using a joystick-like controller, the user – ideally children between 5 and 17 years old – controls exploration with a virtual reality environment. The joystick mimics the high power atomic force microscope that is used in nanoscience to obtain images of material surfaces. This instrument has the ability to observe features as small as atoms. The joystick is like the needle on a record player, and lets the user feel the grooves, bumps, and tiny features on the object at the nanoscale. In addition, the joystick is equipped with 3 orthogonal motors that allow the user to feel the unique nanoscale forces and interaction.
The first prototype of the learning environment was produced in 2008 and a second prototype in 2011. The interactive learning environment includes 10 levels of scale, from the global scale down to the atomic scale, that provide animated haptic exploration scenarios and quizzes at each level for students to exhibit their understanding of key learning objectives.
(collaborators: James Oliverio and Dianne Pawluk)
*S. Loucks-Horsley, Kapitan, R., Carlson, M., Kuerbis, P., Clark, R., Melle, G., Sache, T., & Walton, E., "Elementary school science for the '90s," Alexandria, VA: Association for Supervision and Curriculum Development. 1990. *J. Sweller, "Cognitive load theory, learning difficulty and instructional design," Learning and Instruction, vol. 4, pp. 295-312, 1994.
Software
HapNan 1.0 Educational Software Developed, 10/2012
Exhibitions/Performances
Miami Museum of Science, Miami, FL, January – March 2014
South Florida Science Center and Aquarium, West Palm Beach, FL, April – May 2013
UF Harn Museum, Art in EngineeringHapNan Display/Kiosk, October 11, 2012
Season 3, LiveVibe TV appearance, November 17, 2011, "What's HAPNAN? Arts and Sciences in the Digital Age" interview and discussion of the HapNan project.
 Awards/Reviews of the HapNan Environment
Selected for presentation in the Outstanding Contributions to Mechanical Engineering Education at the 2009 American Society of Engineering Education (ASEE) Annual Conference and Exposition
2009 ASEE Professional Interest Council I Best Paper Award
2009 ASEE Mechanical Engineering Division Best Paper Award